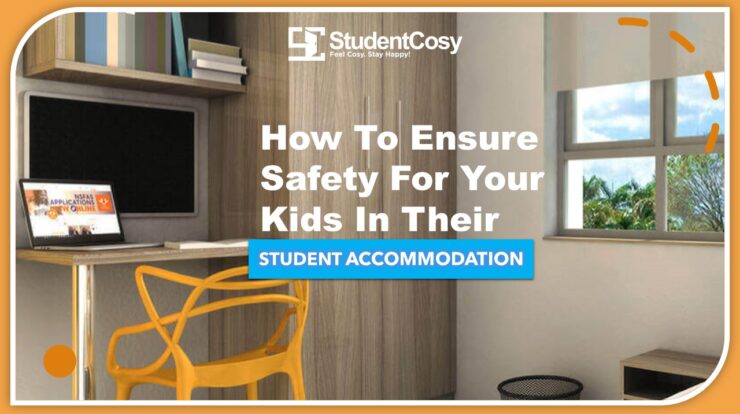 Ensuring the safety for your kids in their student accommodation should be your foremost priority
Now a day is changing and so our youth are. A majority of the youth are going out of their home towns either for their studies or for jobs to pursue their dreams and aspirations. As career and glorious opportunity doesn't knock at someone's doorstep, youth are going to metro cities as they are striving for better opportunities.
They also prefer to settle over there as well because having a stable lifestyle along with a good work-life is very much desirable nowadays. But one thing has not changed till now that is parents and their worries. A new city along with a new home can invite to a lot of unwanted and not-so desired mishaps that can make their parents worry for their kids to a degree.
So it is very much important for you to leave no stone unturned to make sure that your kids are safe and sound in their student accommodation.
Ensuring your kid's residential details is an essential safety measure
1. The parent should have all the detailed information about the state, city, locality, college/office where their kids have decided to go. So that at the time of acute emergency they can have easy access to the information about their kid's whereabouts.
2. Parents should collect the contact details of their kid's landlord. So that if there is an issue they can directly contact the landlord to get information about their kids. They try to meet them personally as well.
3. But now a day's every situation is kind of fickle so having landlord contact details is just not enough. So parents need to collect the contact details of their Kids College, neighbors and friends. Especially if the people with whom their kids hang out with the most.
Checking safety and security measures is a crucial thing now days
1. Parents should also check the safety measures of their kid's PG for security purposes to evaluate the security system of the PG.
2. Parents should also be aware of the basic amities nearby. Such as metro station, supermarkets, hospitals. All these will help reach out to your kids easily and more efficiently.
Talk it out
1. You should always talk to your kids as this is the best option to ensure the safety of your kids in a different city with a different set of people. Ask them a whole lot of questions about their PG, roommate, and landlord. It will help you and your kids in handling things in a better way.
2. It is very important to maintain healthy relations with your kid's landlord. This action of yours can have a positive impact on the relation between your kids and the landlord. Once in a while, an interactive friendly chat with the landlord can make a very big difference because without a doubt landlords are the ones closest to your kids in the new city.
Thorough Checking of Accommodation's website and other details is very much important
1. Parents should have a thorough knowledge of the website from which your kid has finalized the accommodation.
2. Parents should monitor the condition of their kid's student accommodation whether that is clean enough airy enough to live or not. These things are very essential before selecting accommodation. You need to be certain about the fact that if there is any issue regarding water leakage and construction. You should check out whether the water supply is regular or not and if hot water is available or not. Parents should make sure the bathroom is clean and hygienic to ensure complete safety for their kids.
3. Parents should check whether their kids are allowed to use electronic appliances in their student accommodation or not such as an electric cooker, sandwich maker, laptop, and so on. It is better to know before selecting the accommodation because some PGs put restrictions on electricity usage. If your kids are promised to get a wireless check it properly before selecting the accommodation.
 A thorough background check to ensure complete safety and security for your kids
1. Now a day's Background Check of a place is very much important to protect your kids from various potential risks. Before handing over the deposit for student accommodation you should integrally check out the background of that place because you should take safety measures for your kids before selecting a place for them to stay for a certain period. Apart from all that living with another family is not always an easy thing to do. It requires a lot of patience and adjustments. The background of the place's culture and the behavioral approach of the PG's owner should be checked out in detail to ensure the safety of your kids.