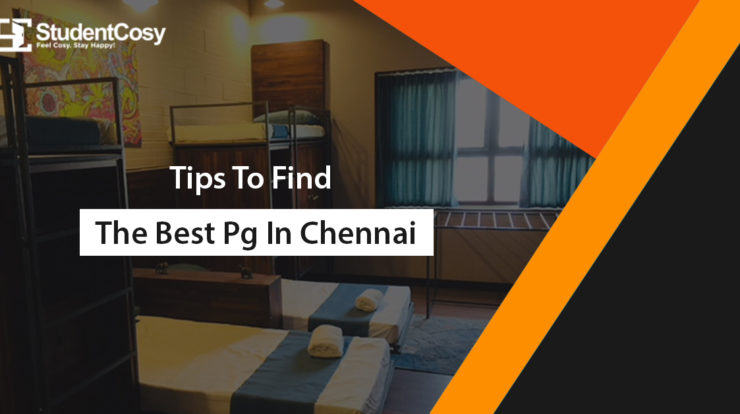 In today's fast-paced world, in order to broaden the horizon to explore larger frontiers and better career opportunities most people have to step out of their home towns. Moving to a new city altogether is not that easy job to do. The most daunting task is to get out of your comfort zone of your home town and need to explore everything all by you. But to move into a PG in the city like Chennai is without a doubt a migrant dream. Popularly known as the Detroit of India it is more than one-third of India's automobile industry.
The traditional and cosmopolitan culture of the city along with a multitude of food culture and favorite windy weather all around the year is a treat to ask for. Because of its coastal region it is neither unbearably warm nor very cold. So, therefore, Chennai has become one of the most popular places to come for studies and jobs in India because of its well to do socio-economic condition and a favorable climate to easily cope up with. For all these suitable reasons students and the job seekers are very much willing to come over here in order to build up a brighter future. So after coming to Chennai, you should prioritize certain factors when you are looking for PG accommodation in Chennai. So if you are looking for the best PG in Chennai, that will be cost-effective, safe and convenient following tips should be followed.
Location
Location does play a crucial role in selecting PG for shifting. Availability of shops nearby, transit service, safety and security of that place are the key factors to select a PG to stay. You should give foremost consideration about the location of the PG and its distance from your institution so that you don't have to spend long hours to reach your destination through Chennai's traffic. So the best option would be to live in the same area or close to the area where your institution or workplace is.
Transport
One of the key aspects of choosing the location for PG is to select a place with good transit service available in the area. So that one can reach to the destination within lesser time. So therefore, checking out the transport that are very much available near the PG is very important task to do .An ideal PG should be near to the modes of Public Transport like rail stations, metro stations ,bus stops and so on. So selecting PG at place with proper transit service available is very much necessary.
Surroundings
A PG with a close neat surrounding of shops, pharmacy, hospitals and restaurants should get selected for staying because you will not be comfortable to stay at PG situated in a locality that is very much secluded and the most nearest shop to that place is a few kilometers away. Its known fact that a proper surrounding of a place creates a certain level of desirability, desirability creates demand and demand raises that place's prices.
Food
Some PGs in Chennai do not serve non-vegetarian food while some offer both. So if you want the meals at specified timing, then you will have to mention it to owner of the house. Some house owners do allow their tenants to cook their own desired meal at the kitchen
Money Matters
There is a popular saying that you have to spend money to make money, so better spend it wisely. So therefore, it is very important to talk to the house owner all about the exit procedures before selecting a PG in Chennai and it should be also discussed whether the deposits  is refundable or not.
Check the Basics Thoroughly
Monitoring the condition of the PG room whether that is clean enough airy enough to live or not is very essential before selecting the PG. You need to be certain about the facts that are there any issue regarding the water leakage and construction. You should checkout whether water supply is continuous and if hot water is available or not. Make sure the bathroom is clean and hygienic.
Usage of electric appliances
It should be checked whether you are allowed to use electronic appliances in your PG room or not such an as electric cooker, sandwich maker, laptop and so on. It is better to know that some PG's put restriction on the electricity usage. If you are promised to get a wireless check it properly before selecting the PG in Chennai.
Background Check
Now a day's Background Check of a place is very much important in order to protect yourself from various potential risk. Before handing over the deposit for a PG you should integrally checkout the background of that place because you should take safety measures before selecting a PG in Chennai to stay for a certain period of time. Apart from all that living with another family in Chennai is not always an easy thing to do. It requires a lot of patience and adjustments. The background of the place's culture and the behavioral approach of the PG's owner should be checked out in detail with your friends and the existing tenants.