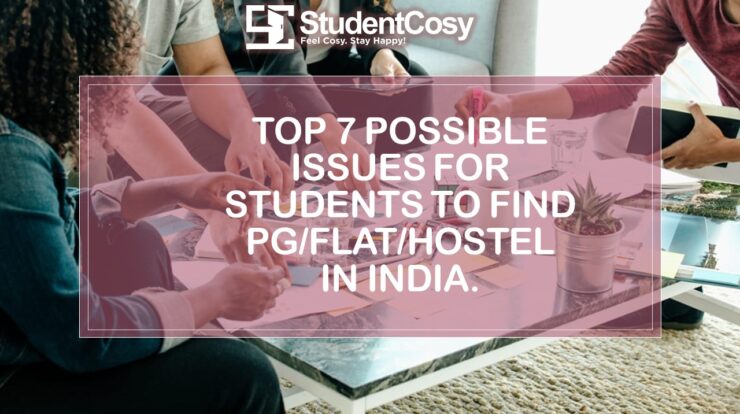 Everybody knows that patience is very important and everyone should have enough of it. You will certainly get it in people who live as paying guests. As a paying guest, you will have to develop a lot of patience since in every step you will just have to adjust. Here are the seven possible issues you might face as a student when looking for hostels, flats, PG accommodations.
The problem of staying in the congested area
When searching for PG accommodation, flats, or hostels, you will come across advertisements mentioning that the rooms are spacious and airy, but in reality, things seem different. When you visit to check the PG, you will notice that the rooms are not even spacious and this means that believing everything that you read in advertisement can never be true. So, it is better to check everything by yourself.
Personal privacy turns out to be a dream
This yet another problem that students mostly face when searching for hostels, flats, or PG accommodation. Personal space is necessary for every student, and if you are planning to shift to hostels probably have to give up on this idea. Your personal space will only remain bound to your bed. If you are expecting comfort like your home, then you will be disappointed.
Savings becomes a problem
When staying away from your house, savings becomes a difficult issue, and most students remain in this misconception and end up wasting money. Most PG accommodation provides meals, but not everywhere. You cannot expect meals in flats since you will have to cook everything and buy things with your money. In addition to that, if you are lucky to have in-house meal service, you might not like the quality of food.
Adjusting with people you do not want to
There is no doubt about the fact everyone is different, and so choices will be different as well. When searching for PG accommodation, flats, or hostels, you might not get a like-minded roommate, and both of you can be poles apart. Both of your choices, habits as well as preferences can be different as well. At times, your roommate can turn out to be your worst nightmares in terms of their annoying habits. All these can be distracting for you.
Restrictions become a part of life
If you think that as a paying guest, you will not have any kind of restrictions, then probably you are living in your dreams. Staying as paying guests, you will face more difficulties as well as restrictions than your home. Some weird restrictions that you might face are not allowing girls, restrictions in talking loudly at night, etc.
Hygiene and cleanliness becomes an issue
Another most common problem that students face when searching for PG accommodation, flats, or hostels. Even though you might see in the advertisement that rooms are clean and hygienic, but in reality, you might find that cleanliness is not even an option, and the rooms are extremely dirty.
Problem with safety
When staying in flats or hostels, students have a constant fear of safety, especially for girls, and due to this reason, it becomes tough for them to find a suitable PG accommodation that has round the clock safety service such as security guards and CCTV cameras in the corridors. Make sure to look for these when searching for PG, flats, or hostels.
Hence, these are the seven issues that students face when searching for PG accommodation, flats, or hostels in India.